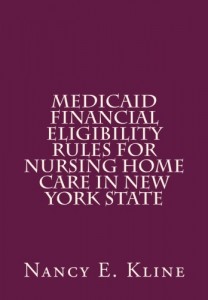 Medicaid Financial Eligibility Rules for Nursing Home Care in New York State is available for purchase on amazon.com.  It is eligible for Free Super Saver Shipping if your total purchase meets Amazon's minimum requirement.  To order the book, click HERE.
Updates to the book will be posted to this website periodically.  Updates may be found on the left side of the screen.  Look under ARCHIVES to find updates sorted by the date they were posted to this website, or under CATEGORIES to find updates sorted by subject. However, information on this website is not guaranteed to be up-to-date.
The information contained on this website is provided for informational purposes only. It should not be construed as legal advice. You should not act on it without contacting a lawyer for legal advice.
This website may be considered attorney advertising.
Nancy E. Kline is an attorney with the law firm Coughlin & Gerhart, L.L.P., 99 Corporate Drive, Binghamton, New York 13904 (telephone 607-723-9511).